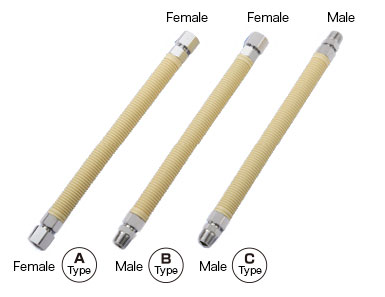 The surface of the highly corrosion-resistant stainless steel (SUS304) tube is coated with epoxy resin. In addition, an elastomer (TPE) cover protects the inner unit from salt, detergent, and oil. Easy to bend, align, and place. Installation is easy even in a narrow space. The tube will not become flat in bending, and will not restrict gas flow. Metal touch screw connection prevents loosening at the ends or from equipment, securing safety.
Certified product by Japan L.P. Gas Instrument Inspection Association (LIA)
Specifications

* Scroll the page right or left to view the complete table.
NO
Part name
Material
Finishing
1
Joint fitting (Cap nut)
C3604BD
Nickel chrome plating
2
Tube
SUS304
Epoxy resin coating
3
Connecting fitting
(Male nipple)
C3604BD
Nickel chrome plating
4
Connecting fitting
(Female nipple)
C3604BD
Nickel chrome plating
5
Protective cover
TPE
* B type structure
Nominal dia.
Length, L (mm)
Fitting section
Tube
15A
(1/2B)
10A
(3/8B) 
200
250
300
450
600
※900
* 900L is without protective cover.