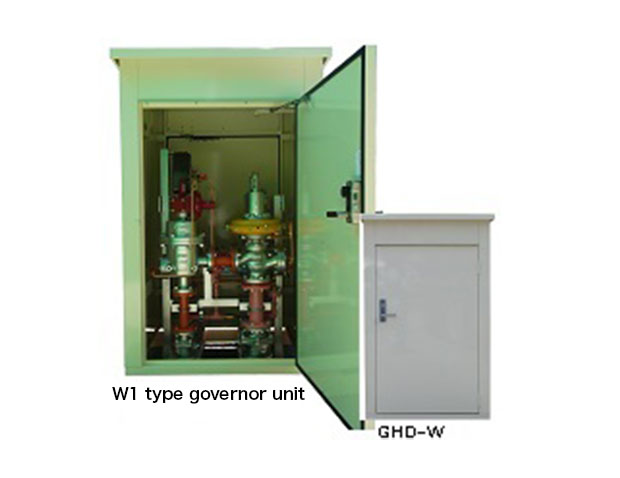 Features
This governor unit is most suitable for dedicated small-flow control.

An integrated structure of two-way governor, shut-off valve and angle type filter saves installation space.

Unitization reduces cost and work hours.
(Please use our dedicated template to study pre-installation piping.)

Optionally, shut-off valve can be linked with fire and earthquake alarms, thus enabling the governor unit to operate as a multi-purpose function device (WS-TS type).
Specifications
Unit system

W1 type (2-line and 1-shut-off system)




W2 type (2-line and 2-shut-off system)

Connecting diameter

In 50A, out 80A
Unit configuration
Governor model

KY-OL

KY-OM

Governor diameter

50A × 80A (Inlet connection 50A and outlet connection 80A)

Primary pressure

Less than 0.3 MPa

Secondary pressure

1.18~4.90kPa

4.41~19.6kPa

Setting range of filter with over pressure shut-off valve (MFV)

1.96~27.5kPa

Setting range of dry-type safety device (KVSR)

0.981~24.5kPa
Housing
| Type (Model) | GHD-W type |
| --- | --- |
| Dimensions (Main unit) | W 1,100 x D 1,100 x H 1,775 mm |
| Structure | Rectangular cylinder, with front and back doors |
| Standard paint color | Ivory white |
| Materials | Stainless steel |