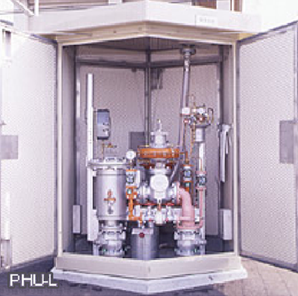 KA and KT governor units
* Example picture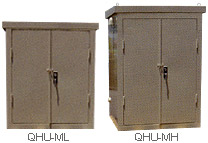 Features
Unitization reduces cost and work hours.
(Please use our dedicated template to study pre-installation piping.)

The space needed for excavation is only 2 x 2 meters, requiring only a small space in an urban area.

Noise level is reduced by 40 dB at a distance of one meter from the original sound source in the housing.

Simple outer design maintains a harmony with surrounding area.
Specifications
System

2 lines, 1 line (sub side bypass valve, etc.)
[Depending on the combination of equipment used]

Unit connection main pipe portion

Inlet side 100A and outlet side 100A (JIS 10K flange)

Using governors

KA, KT and KF governors

Governor diameter

50A・80A・100A

Other equipment

Filter, safety device, and shut-off valve
Stainless steel housing
Type (Model)

Hexagonal cylinder, PHU

Rectangular cylinder, QHU

Dimensions
(Main unit)

M type: hexagonal opposite side distance 1,360 x height 2,162 mm




L type: hexagonal opposite side distance 1,560 x height 2,162 mm

ML、MH、XL

Structure

Hexagonal cylinder, with front and back doors, fixed type

Rectangular cylinder, with three doors

Standard paint color

Ivory white