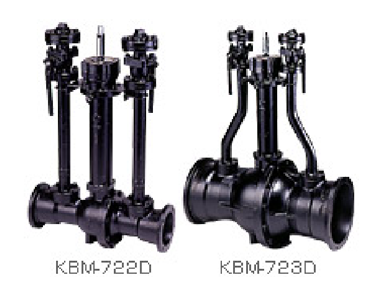 Features
Direct-buried.
Mechanical type (GM II) connection with conduit pipe provides excellent flexibility.
Using GM II type steel short pipe enables connection with steel pipes.
Connection form: socket-socket.
Depending on underground depth, three types [S, M, and L (with extension)] are available.
Soft seat (special rubber) provides excellent sealing performance.
Special reducer enables low-torque, easy open/close operation.
Compatible with a maintenance hole with a diameter of 600.
A dissipation tube enables multiple-purpose operations, including bypassing, pressure measurement, and purging, suitable as a thermal conversion valve.
Specifications
Model

KBM-722D

KBM-723D

Nominal dia.
100A・150A・200A
300A
Port form
Full bore
Reduced bore
Material

Body [FCD], disc [Self-lubricating rubber+FCD], seat [SUS], and stem [SUS]

Operating pressure
Less than 0.3 MPa
Outer surface coating
Coal tar-epoxy resin paints