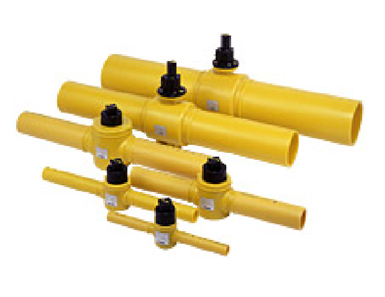 KPFU-011PE
structure




KPFU-011PE
Waterproof specification/Sheath (Optional)




KBTFU-021PE
Excellent dust resistance




KBTFU-021PE
Structure
Features
Excellent vibration resistance

Simultaneous-monolithically molded body with inserted metal core has high stiffness, preventing external leakage and seat leakage even against a strong external force.
The boundary between PE and metal is firmly sealed with an O-ring and stiffener.

Lightweight and compact

Adoption of butterfly valve as the core valve reduced face-to-face dimensions and outer diameter comparable with EF joints, eliminating interference with other buried products during installation and maintaining almost equivalent weight to fully PE products.

Excellent dust resistance

Adopting highly dust-resistant special rubber as the disc seal in the dual eccentric structure (butterfly valve) provides excellent sealing performance.

Dual eccentric structure


Excellent operability

Sealing by metallic core valve inserted to the body reduces fluctuation of torque regardless of external force or temperature change, providing stable opening/closing operation.
A newly developed operating portion has direct-acting (90°C opening/closing) self-lock mechanism, eliminating a release-lock action during operation and enabling quick valve operation in case of emergency.

Maintenance-free

Adoption of self-lubricating disc seal rubber eliminates nuisance of sealant injection and maintains reliable valve performance for a long period of time.

Various operational angles

To respond to various handles, four operational angles are available for each size (48 x 48, 45 x 45, 40 x 40, and 35 × 28).

Dissipation tube/waterproof specification (Optional)

Types with a dissipation tube, convenient for bypass operation, gas diffusion, and gas pressure measurement, are available.
Waterproof sheath sets that protect the valve operating portion from dirt, rainwater, and spring water, are also available.
Structure (KBTFU-021PE)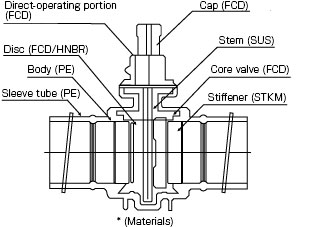 Specifications
* Scroll the page right or left to view the complete table.
Model
Straight plug type
KPFU-011PE
Butterfly valve type
KBTFU-021PE
Nominal dia.
30A・50A・75A・100A
150A・200A
Port form
Reduced bore (Open area ratio 70%)
Reduced bore (Open area ratio 70%)
Material
Body [PE+FCD], disc [POM], seat [Self-lubricating rubber], and bonnet [PP]
Body [PE+FCD], disc [Self-lubricating rubber+FCD], seat [SUS], and stem [SUS]
Operating pressure
Less than 0.1 MPa
Main dimensions
KPFU-011PE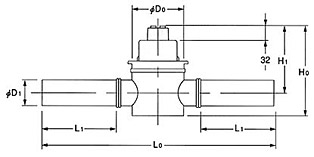 * Scroll the page right or left to view the complete table.
Unit: mm
Model
Nominal dia.
L0
L1
H
H1
φD0
φD1
Weight (kg)
KPFU-011PE
30A
500
180
187
142
85
42
1.4
50A
710
270
207
153
108
60
2.3
75A
740
270
243
171
134
89
4.5
100A
1000
375
286
197
176
114
10.3
KBTFU-021PE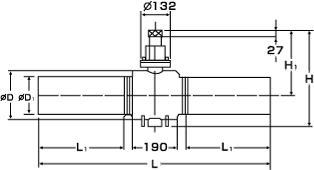 * Scroll the page right or left to view the complete table.
Unit: mm
Model
Nominal dia.
L0
L1
H
H1
φD0
φD1
Weight (kg)
KBTFU-021PE
150A
1210
470
430
297
210
165
23
200A
1330
530
482
321
260
216
36
Installation example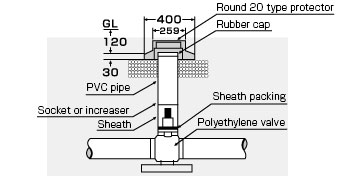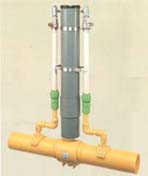 Dissipation tube